A checklist of the scorpions of Ecuador (Arachnida: Scorpiones), with notes on the distribution and medical significance of some species
Journal of Venomous Animals and Toxins including Tropical Diseases
2015
21:23
Received: 25 January 2015
Accepted: 20 July 2015
Published: 30 July 2015
Abstract
Ecuador harbors one of the most diverse Neotropical scorpion faunas, hereby updated to 47 species contained within eight genera and five families, which inhabits the "Costa" (n = 17), "Sierra" (n = 34), "Oriente" (n = 16) and "Insular" (n = 2) biogeographical regions, corresponding to the western coastal, Andean, Amazonian, and the Galápagos archipelago regions, respectively. The genus Tityus Koch, in the family Buthidae, responsible for severe/fatal accidents elsewhere in northern South America and the Amazonia, is represented in Ecuador by 16 species, including T. asthenes, which has caused fatalities in Colombia and Panama, and now in the Ecuadorian provinces of Morona Santiago and Sucumbíos. Underestimation of the medical significance of scorpion envenoming in Ecuador arises from the fact that Centruroides margaritatus (Gervais) (family Buthidae) and Teuthraustes atramentarius Simon (family Chactidae), whose venoms show low toxicity towards vertebrates, frequently envenom humans in the highly populated Guayas and Pichincha provinces. This work also updates the local scorpion faunal endemicity (74.5 %) and its geographical distribution, and reviews available medical/biochemical information on each species in the light of the increasing problem of scorpionism in the country. A proposal is hereby put forward to classify the Ecuadorian scorpions based on their potential medical importance.
Keywords
ScorpionsEcuador Ananteris Brachistosternus Chactas Centruroides Hadruroides Scorpionism Teuthraustes Tityus Troglotayosicus
Introduction
Ecuador, despite its small size (only 250,000 km2 or 1.5 % of South America), ranks 17th among the nations of the world in biodiversity [1, 2]. This is attributable to, among other factors, the confluence of several biogeographic regions: Chocó and Tumbez (encompassing the "Costa" region), northern and south-central Andes (Sierra" region), the northern and southwestern Amazon (Oriente" region) and the insular region of Galápagos (Fig. 2). Ecuador harbors one of the richest arachnid faunas of the Neotropics [3]; specifically, its scorpion fauna ranks high amongst South American countries in terms of diversity, with 12.70 species per 100,000 km2 [4].
Pioneering work by Eugéne Simon, Reginald I. Pocock, Alfredo Borelli, Karl Kraepelin, and Cândido de Mello-Leitão initiated the cataloguing of Ecuadorian scorpions [5–13]. Although less known, the work of the Ecuadorian taxonomist Francisco Campos [14, 15], together with Behr-Castillo and Correa [16], also contributed to the knowledge of local scorpions, particularly in the province of Guayas. The work of Wilson R. Lourenço has allowed recognition of Ecuador as part of a region exhibiting the highest alpha-diversity for scorpions in the world, also encompassing Southern Colombia, the Northeast region of Peru, and the Upper Amazon region of Brazil [17].
Particularly, the genera Tityus C. L. Koch (in the family Buthidae) and Teuthraustes Simon (in the family Chactidae) show a high concentration of species in Ecuador [18, 19]. A center of endemism in Ecuador for Teuthraustes has been proposed based on its extreme local diversity [20]. Despite such diversity, little is known about the toxicity of local scorpions, particularly within the speciose genus Tityus, which contains all medically important species in South America, and exhibits a phylogenetic divergence paralleled by functional, structural, and immunological differences among their toxins [21, 22].
Mostly dating from records obtained at the turn of the 19th century and from the 1900–1920 period, type localities for a number of Ecuadorian species are obscure. An example of this situation shown recently is the chactid Chactas rubrolineatus Simon, described by Eugène Simon from Rio Içá in 1880, which was wrongly assigned to Ecuador by Mello-Leitão [10] when in fact its location lies in Brazil [23].
The goal of this work is therefore to update the list of species and review the literature on scorpion Ecuadorian fauna from geographical and toxicological standpoints whenever the information is available. This idea arises, on one hand, from the increasing clinical relevance of some species in the country, with several fatal and severe infant cases reported from the provinces of Sucumbíos and Morona Santiago in 2012–2014 ([24]; Dr. Jorge Blanco, Fundación Herpetológica Gustavo Orcés, personal communication). Comprehension of the basis underlying the extreme diversity of the Ecuadorian scorpion fauna, particularly in the case of those species toxic to humans, necessarily relies on the correct assignment of collection localities.
Here follows a list of the taxa currently recognized to inhabit Ecuador, including comments on their distribution and type localities, after confronting published collection sites with contemporary geographical names. We used various search engines for placing type localities (Google Earth, GeoNames). Taxa are organized in alphabetical order. Figure
1
summarizes the occurrence of individual species per province; the map in Fig.
2
identifies provinces in the contemporary political map of Ecuador. Information on the location of holotypes and syntypes for Ecuadorian species is available from the cited literature [
17
,
25
–
32
]. We also review the potential medical importance of scorpion genera and species prevalent in Ecuador.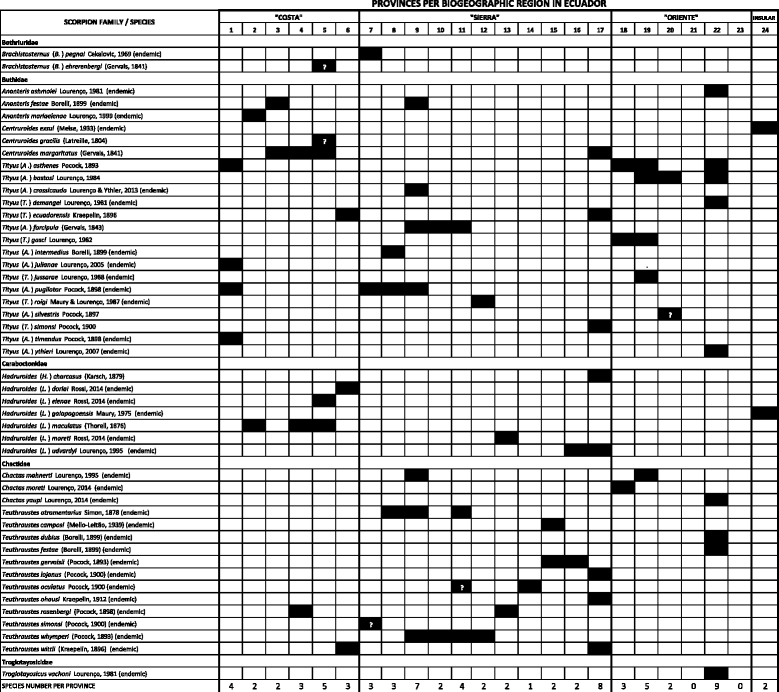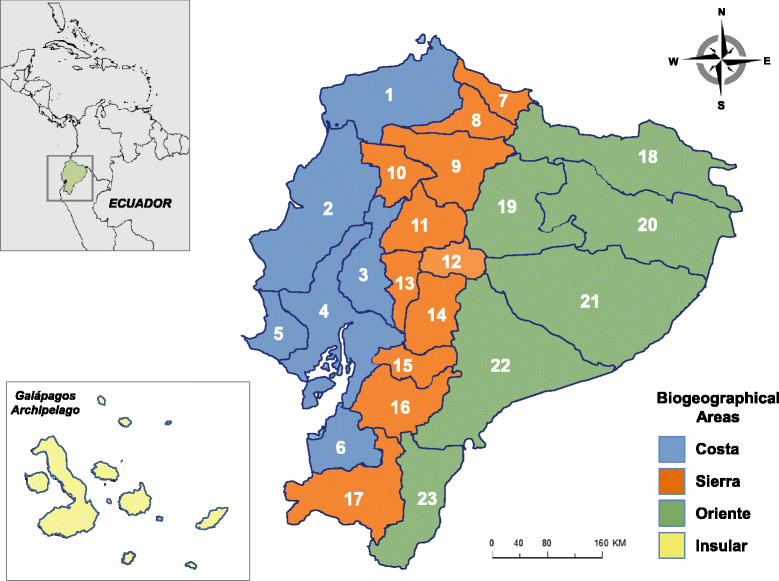 Annotated list of Ecuadorian scorpion species
Family Bothriuridae Simon, 1880

Genus

Brachistosternus

Pocock, 1893

Brachistosternus (Brachistosternus) pegnai Cekalovic, 1969

Brachistosternus (Brachistosternus) ehrenbergii (Gervais, 1841)
Family Buthidae Simon, 1880

Genus

Ananteris

Thorell, 1891

Ananteris ashmolei Lourenço, 1981

Ananteris festae Borelli, 1899

Ananteris mariaelenae Lourenço, 1999
Genus

Centruroides

Marx, 1889

Centruroides exsul (Meise, 1933)

Centruroides gracilis (Latreille, 1804)

Centruroides margaritatus (Gervais, 1841)
Genus

Tityus

C. L. Koch, 1836

Tityus (Atreus) asthenes Pocock, 1893

Tityus (Archaeotityus) bastosi Lourenço, 1984

Tityus (Atreus) crassicauda Lourenço & Ythier, 2013

Tityus (Tityus) demangei Lourenço, 1981

Tityus (Tityus) ecuadorensis Kraepelin, 1896

Tityus (Atreus) forcipula (Gervais, 1844)

Tityus (Tityus) gasci Lourenço, 1981

Tityus (Archaeotityus) intermedius Borelli, 1899

Tityus (Archaeotityus) julianae Lourenco, 2005

Tityus (Tityus) jussarae Lourenço, 1988

Tityus (Atreus) pugilator Pocock, 1898

Tityus (Tityus) roigi Maury & Lourenço, 1987

Tityus (Tityus) simonsi Pocock, 1900

Tityus (Archaeotityus) silvestris Pocock, 1897

Tityus (Atreus) timendus Pocock, 1898

Tityus (Atreus) ythieri Lourenço, 2007
Family Caraboctonidae Kraepelin, 1905

Genus

Hadruroides

Pocock, 1893

Hadruroides (Hadruroides) charcasus (Karsch, 1879)

Hadruroides (Lourencoides) doriai Rossi, 2014

Hadruroides (Lourencoides) elenae Rossi, 2014

Hadruroides (Lourencoides) galapagoensis Maury, 1974

Hadruroides (Lourencoides) maculatus (Thorell, 1876)

Hadruroides (Lourencoides) moreti Rossi, 2014

Hadruroides (Lourencoides) udvardyi Lourenço, 1995
Family Chactidae Laurie, 1896

Genus Chactas Gervais, 1844

Chactas mahnerti Lourenço, 1995

Chactas moreti Lourenço, 2014

Chactas yaupi Lourenço, 2014
Genus

Teuthraustes

Simon, 1878

Teuthraustes atramentarius Simon, 1878

Teuthraustes camposi (Mello-Leitão, 1939)

Teuthraustes dubius (Borelli, 1899)

Teuthraustes festae (Borelli, 1899)

Teuthraustes gervaisii (Pocock, 1893)

Teuthraustes lojanus (Pocock, 1900)

Teuthraustes oculatus Pocock, 1900

Teuthraustes ohausi Kraepelin, 1912

Teuthraustes rosenbergi (Pocock, 1898)

Teuthraustes simonsi (Pocock, 1900)

Teuthraustes whymperi (Pocock, 1893)

Teuthraustes wittii (Kraepelin, 1896)
Family Troglotayosicidae Lourenço, 1998

Genus

Troglotayosicus

Lourenço, 1981

Troglotayosicus vachoni Lourenço, 1981
Concluding remarks
Surrounded by areas where scorpion stings are frequent and usually inflicted by noxious species, such as southern Colombia and the Brazilian Amazonia, there was a need to update the list of the scorpion fauna from Ecuador, and establish their geographic distribution and potential medical significance in light of recent accidents in children, some of them fatal [93, 56]. As noted before, insufficient efforts have been made, particularly in the case of the genus Tityus, to correlate human incidents and the precise geographical distribution of the species involved [94]. Preparation of a risk map for scorpionism in Ecuador and the possible manufacturing of a scorpion antivenom effective in the country would be facilitated by establishing such a correlation.
This work updates the number of Ecuadorian scorpion species to 47 and clarifies their distribution by biogeographic area and political provinces upon a thorough revision of individual collection localities based on contemporary records, summarized in Fig. 1. Such clarification should be helpful in future re-collections of specimens. This work also raises the number of endemic taxa to 35 (74.5 % of endemism), a rate comparable to that of Colombia (75.6 %) and only surpassed in northern South America by Venezuela (91.3 %) [79, 95]. For instance, Ecuador has been recognized as the probable center of dispersion for the scorpion genus Teuthraustes, in the family Chactidae, with half of the described species (n = 12) being endemic to the country [20]. Such dynamic speciation of Ecuadorian scorpions has been attributed to an evolutionary mode involving genetic drift in small founder populations, as the plant genera Gasteranthus (Gesneriaceae) and Anthurium (Araceae), with 25 and 50 %, respectively, of their world total species endemic to the environs of Ecuador [17, 96–98].
The incidence of scorpion stings in endemic areas is the result, among other factors, of the distribution areas of noxious species, their local abundance and ecology. The most speciose scorpion genera in Ecuador are Tityus (16 spp.), Teuthraustes (12 spp.), and Hadruroides (7 spp.), followed by Ananteris (3 spp.), Brachistosternus (2 spp.) and Centruroides (2 spp.), notwithstanding differences in their relative abundance among the biogeographical areas of "Costa," "Sierra" and "Oriente" (Fig. 2). Scorpions in the genus Hadruroides are very abundant along the hyperxerophitic coastal areas (in provinces of El Oro, Guayas, and Santa Elena) and can be found under stones and dry manure [14]. There are no reports on the abundance of Ecuadorian Brachistosternus spp. but they are common in dunes of the Peruvian central and northern coast and should present a similar ecology in Ecuador, at least in the case of B. (B.) ehrenbergii [34]. Species in the genus Teuthraustes in Ecuador are mostly forest-dwelling taxa, native to the inter-Andean valleys, and are not hazardous to humans as shown in the case of T. atramentarius, a synanthropic, abundant species in the area of Quito, province of Pichincha [88, 89]. As stated above, C. margaritatus is the most common species found in domiciliary environments along the Ecuadorian coast and in populated areas such as Guayaquil and Milagro (province of Guayas), Babahoyo and Quevedo (province of Los Ríos), Portoviejo, Manta, and Chone (province of Manabí). Ananteris spp. are mostly sylvatic species. Specimens of Tityus spp. are abundant in domiciliary and peridomiciliary habitats of rural communities located in tropical and subtropical rain forest areas of Sucumbíos and Morona Santiago ("Oriente" area) and also in the province of Esmeraldas ("Costa" area), where they have been responsible for severe and lethal cases of scorpionism.
Traditionally, scorpions were not considered dangerous in Ecuador and their sting was supposedly fiercer if specimens from the coastal areas were involved, based on the notion that species from drier places produce venoms with higher toxicity [99]. Regardless of the species, envenoming manifestations in humans, which were claimed to be predominantly local, were reported to resemble those derived from wasp or bee stings [99]. Such an assumption, which has prevailed in modern times, is a consequence of the low toxicity towards vertebrates of the venoms produced by C. margaritatus and T. atramentarius, which are the most common urban species in the country. It is clear from the above account that noxious scorpion species inhabit Ecuador and are capable of producing significant morbidity and pediatric mortality.
According to the species involved, their areas of distribution and the available knowledge of the venom action and composition of allied taxa, as presented in this annotated checklist, we propose a classification of the Ecuadorian scorpion fauna as follows:
1.

Species in genera Hadruroides, which are mainly coastal (Fig. 4), would produce severe accidents only if envenoming occurs by a central pathway. Local manifestations such as intense pain, edema and ulceration are expected [100]. Venoms of Hadruroides spp. contain cytotoxic components that may produce heart muscle disruption. Sting by Brachistosternus spp., also a coastal species in Ecuador [with the exception of B. (B.) pegnai, restricted to Carchi], and recognized by their generally clear and yellowish coloration, produces intense pain in humans without further complications, although some venoms contain neurotoxins that can produce autonomic effects [35].

2.

Species in genera Centruroides and Teuthraustes inhabiting Ecuador, particularly C. margaritatus and T. atramentarius (Fig. 3) appear not to produce venoms significantly toxic to humans. For instance, envenoming by the C. margaritatus population inhabiting the surroundings of Cali, Colombia – morphologically related to the populations prevalent in the coastal regions of Ecuador [101] – produce intense pain, some discoloration at the sting site, and fever (average 39 °C) 3 to 4 h after the accident, without further complications [52]. T. atramentarius appears to be weakly ly toxic to humans [89].

3.

Species in the genus Tityus differ in their venom toxicity towards humans depending on the morphological group to which they pertain:

(a)

Species belonging to the subgenus Archaeotityus (encompassing the "Tityus clathratus" group) comprise small (18–40 mm), highly pigmented scorpions capable of producing toxins with a fingerprint structurally similar to noxious Tityus spp. [e.g. Tityus (Archaeotityus) clathratus Koch] but they are not considered medically significant due to the low amount of venom injected [102]. In Ecuador these species are T. (A.) julianae, T. (A.) intermedius, T. (A.) bastosi, T. (A.) pugilator, and T. (A.) silvestris.

(b)

Species in the subgenus Atreus in Ecuador belong either to the morphological groups "Tityus forcípula" [T. (A.) forcipula, T. (A.) crassicauda, and T. (A.) timendus], "Tityus androcottoides" [T. (A.) ythieri], or "Tityus asthenes" [T. (A.) asthenes]. These species seem to be restricted to lowland rain forests of the piedmont east and west of the Andes. Most severe/lethal envenoming cases in northern South America, the Amazonian region, and Central America are due to species in this subgenus [47, 55, 56]. The medically significant Ecuadorian species are most probably all contained within this subgenus.

(c)

Species in the subgenus Tityus in Ecuador mainly belong to the "Tityus bolivianus" complex [T. (T.) demangei, T. (T.) ecuadorensis, T. (T.) roigi, T. (T.) simonsi, and T. (T.) jussarae], with the exception of T. (T.) gasci. This complex contains species mostly inhabiting the inter-Andean valleys in the "Sierra" region [18]. In contrast to the "Tityus asthenes" and "Tityus forcipula" complexes, no species within the "Tityus bolivianus" group have yet been reported to present medical significance in Ecuador or the countries where this complex is also prevalent (Peru, Bolivia, Argentina).

4.

Species of the genera Centruroides (C. exsul) and Hadruroides [H. (L.) galapagoensis] inhabiting the Galápagos archipelago are not considered dangerous to humans although their sting is painful [103].
As severe envenoming cases have been recorded from east of the Ecuadorian Andes, a study of the immunological reactivity of venoms from medically significant species towards available scorpion antivenoms is required to establish their neutralization capacity or whether new antibodies are needed [24]. In this sense, only three anti-Tityus antivenoms are available: anti-Tityus (Atreus) discrepans (Venezuela), anti-Tityus (Tityus) serrulatus (Brazil), and anti-Tityus (Tityus) trivitattus (Argentina) [21, 55]. More collection work is necessary in regions still poorly sampled, such as the provinces of Pastaza and Zamora Chinchipe where no species have been reported thus far (Fig. 1). In this context, it seems reasonable to assume that a significant part of the Ecuadorian scorpion fauna (and their molecules) is still undiscovered, as pointed out recently in relation to other arachnid groups [104].
Declarations
Acknowledgments
The Secretaría Nacional de Educación Superior, Ciencia, Tecnología e Innovación (Ecuador) is gratefully acknowledged for its financial support through the program Prometeo (to A.B.). We would also like to thank Dr. Carmen Bonifaz de Elao, Faculty of Natural Sciences, Universidad de Guayaquil, for her constant support and help with logistics during collection work. Thanks are conveyed to Dr. Jorge Blanco, from Fundación Herpetológica Gustavo Orcés, Quito, Ecuador, for informing us on the severe and fatal scorpion stings in children he witnessed in the province of Morona Santiago. We are grateful to Xavier Cornejo, Michiel Cozijn, Radomir Jirsak, Jan Ove Rein, Tatiana Torres, David Reyes, Richard C. West, and Eric Ythier for allowing us to use their photographs. Dr. Clifford Keil, Director, Invertebrate Museum, Pontificia Universidad Católica del Ecuador, Quito, kindly allowed us to examine and photograph the specimen of Teuthraustes atramentarius appearing in this publication. We thank Dr. Andrea Rossi for confirming the identity of the H. charcasus specimen appearing in Fig. 4. Dr. Telmo Ariel Escobar, Biol. Jaime Santos, and Biol. José David Villalta, from the Faculty of Natural Sciences, Universidad de Guayaquil, are acknowledged for their support during collections and data gathering. We are extremely thankful to Dr. Miguel Delgado, for his persistent support, great spirit and humor, and for sharing with us his unpublished observations on envenoming by Centruroides margaritatus in Guayaquil.
Authors' Affiliations
(1)
Laboratory of Biotechnology, Faculty of Natural Sciences, University of Guayaquil, Guayaquil, Ecuador
(2)
Laboratorio de Biología Molecular de Toxinas y Receptores, Instituto de Medicina Experimental, Facultad de Medicina, Universidad Central de Venezuela, Caracas, Venezuela
(3)
National Secretariat for Higher Education, Sciences, Technology and Innovation of Ecuador (Senescyt), Quito, Ecuador
Copyright
© Brito and Borges. 2015
This is an Open Access article distributed under the terms of the Creative Commons Attribution License (http://creativecommons.org/licenses/by/4.0), which permits unrestricted use, distribution, and reproduction in any medium, provided the original work is properly credited. The Creative Commons Public Domain Dedication waiver (http://creativecommons.org/publicdomain/zero/1.0/) applies to the data made available in this article, unless otherwise stated.