Scorpion incidents, misidentification cases and possible implications for the final interpretation of results
Journal of Venomous Animals and Toxins including Tropical Diseases
2016
22:21
Received: 17 June 2016
Accepted: 17 June 2016
Published: 2 July 2016
Abstract
The aim of this contribution is to bring general information on the classification and in particular on the specific identification of scorpion species dangerous to humans. Several generic groups are taken into consideration, but the Neotropical genus Tityus C. L. Koch, 1836 is used as a major example. The content of this paper is mostly addressed to non-specialists whose research embraces scorpions in several fields such as venom toxins and public health. Although efforts have been made in the last 20 years to create better links between 'true scorpion experts' and non-specialists who use scorpions in their research, such exchanges had never led to a consensus among those different branches of biological and medical research. Consequently, many cases of species misidentification and even more serious errors concerning scorpion classification/identification are often present in the specialized literature. In conclusion, it is suggested here that the frequent cases of misidentification observed in several reports may induce mistakes in the final interpretation of results, leading only to more inefficacity in the treatment of problems caused by infamous scorpion species.
Keywords
ScorpionDangerous speciesMisidentificationBiased resultsButhidae Tityus
Background
Scorpions are a rather depauperate group within the class Arachnida with approximately 2,100 known species. They can be classified among the most ancestral arthropods both in origin and body morphology. They first appeared as aquatic organisms during the Silurian (approximately 450 million years ago – MYA) and underwent rather small morphological changes since [1]. Their apparent conservative form led some authors to define them as 'living fossils'. However, scorpions most certainly developed major biochemical, physiological, behavioral and ecological adaptations that have combined to ensure their continued success over the past 450 million years.
Even if for natural history experts scorpions can be considered fascinating animals, the interest shown by people in general is only connected with their negative reputation of 'killers of men'. Nevertheless, only a limited number of species, probably less than 50, are actually responsible for serious or lethal incidents. It is true, however, that the interest on scorpion research in many distinct biological fields was generated by the fact that a number of species possess venoms with potent toxins, capable of killing humans. Most deadly species belong to the family Buthidae; though, species belonging to two other families, Scorpionidae and Hemiscorpiidae, also threaten humans.
The group first appeared as aquatic organisms. In their evolutionary history, scorpions almost certainly evolved from Eurypterida ('water scorpions') since both groups share several common morphological features. Marine and amphibious scorpions most certainly persisted well into the Carboniferous (359–299 MYA) and some species probably reached the Permian (299–251 MYA) and Triassic (251-200MYA) periods [2, 3]. The first unequivocally terrestrial (air-breathing) scorpion most certainly appeared on land during the late Devonian (416–359 MYA) or early Carboniferous [1, 4]. For a precise description of scorpion evolutionary history and toxin evolution, readers can refer to Lourenço [5].
From the beginning of scorpion studies in the late 18th century and during almost 150 years, researchers focused primarily on descriptive taxonomy, general anatomy and very rudimentary biogeography, followed by medical research on venom biochemistry. Since the 1970s, however, basic research on scorpions expanded greatly to encompass behavior, physiology, ecology evolutionary and reproductive biology. Moreover, a large amount of all the research was based on toxin studies and public health problems caused by dangerous species. New approaches were attempted in this last field of research with the use of more precise methods based on a better knowledge of life history strategies of these organisms [6–9].
In the general mass of recent publications devoted to venoms, toxins and public health problems, it is yet possible to observe major gaps between the most up-to-date information on scorpion identification/classification produced by true scorpion experts and the information diffused by researchers who use these organisms in their own research, but are not aware of their precise classification. For this reason, it is suggested here that the frequent cases of misidentification observed in many reports may induce important mistakes in the final interpretation of results, which can only lead to more inefficacy in the treatment of problems caused by dangerous scorpion species. In this article, I attempt to explain and elucidate a number of common problems with clarity, accuracy and unambiguous communication, hopping that in this way the matter may be accessible to a broad audience.
How to approach the identification of scorpions
Techniques for collection
As already outlined in some of my previous publications, techniques for collecting and sampling are very important to estimate the composition of the scorpion fauna of a given region [
10
,
11
]. Once the sampling is carried out, the identification process may be attempted by the study of some precise characters. There are four main techniques for the collection of scorpions:
Overturning stones, rocks and logs beneath which many species can be found. This method, although the most widely used, is time and energy consuming, and the results obtained are generally poor.

Pitfall traps may be placed in the soil, when fieldwork is expected to last at least for several days, and preferably for some weeks, in the same site. Results obtained by this method can be very satisfactory if the site chosen contains a large population of scorpions. This method is most successful during dry season, but the traps should be checked daily if adequate results are to be obtained.

Collection at night with the use of a portable ultraviolet light. Because of the presence of riboflavins in their exocuticles, scorpions become fluorescent under ultraviolet light (Fig.

1

) and can be easily found [

12

]. This method is most efficient in open areas such as deserts and savannas; however, it can also be used in rainforests. Generally, results are better in the absence of moonlight. This technique should be used with prudence, since snakes are not fluorescent and can represent a danger in dark nights.

Fig. 1

Tityus brazilae Lourenço & Eickstedt, 1984; female from Brazil under UV light (copyright by Tiago Porto, reproduced with permission)

Methods of extraction, such as Berlese, Winkler and Kempson may also be successfully employed to obtain very small species, or juveniles, that inhabit organic soil [13]. These diminutive species, in general with less than 1.5 cm in total length, generally escape from the collection if the other already described methods are used.
Scorpions are often rather rare and the population densities of many species are low. For this reason, it is usually recommended that specimens should be brought alive into the laboratory for study. They can be maintained in boxes with saturated cotton wool in a dish. The bottom of the box must be covered with a layer of soil of about 2–3 cm in depth, preferably from the region where the scorpion was collected. Food such as spiders or insects (but not ants) should be offered once a week. In many cases, reproduction takes place, thereby providing additional material for study. Once specimens have died they should be preserved in 75 % alcohol [14].
Taxonomic study and identification
The taxonomy of scorpions presents difficulties comparable with those encountered in most other groups of Arthropods. Before beginning the study of scorpions, it is necessary to be able to recognize all of the morphological features used in taxonomy. Recognition of males, females and juveniles is not always a simple task. For many species, males are bigger, with bulkier or longer pedipalps. This is not, however, a general rule, so another important character to be examined is the size and shape of pectines. Almost without exception, pectines in males are bigger, and overlap in their internal side. Recognition of juveniles is almost impossible for non-specialists. Only good samples can authorize the identification of different instars. It is not in the scope of this contribution to bring all the details about the procedures used in the taxonomic study of scorpions. For more details, readers can refer to Lourenço [5, 10, 13, 14].
Most relevant scorpion groups in toxin research and public health programs
The great majority of scorpion species related to public health problems belong to the family Buthidae C. L. Koch, 1837. In most cases, the same species are equally used in venom and toxin research. The reasons for this convergence are associated with both common tradition of studying the most infamous species, but also because these are in general the most readily available. Buthids represent the most important family within the order Scorpiones, comprising about 50 % of all the known species. This family contains also a remarkable number of generic groups, but only a few genera are well known by a broad audience (e.g. scholar doing research on venoms and toxins). In fact, many of the buthid genera are extremely rare. Many genera are monotypic or are composed of only 2 to 3 species that can be extremely rare. Consequently, these will never cross the scientific way of most biologists interested in scorpions as tools.
Most infamous species, largely used in venoms and toxins research, but also concerned by public health programs, are globally confined to a limited number of genera. Nevertheless, a great confusion in their classification can yet prevail and the cases of misidentification are rather common. In the next section, I attempt to bring some light over these groups.
Old World genera
Family Buthidae C. L. Koch, 1837
Family Scorpionidae Latreille, 1802
The genus Scorpio Linnaeus, 1758
The genus
Scorpio
(Fig.
13
) with the species
Scorpio maurus
Linnaeus, 1758 can be considered as the original nomination defined in the zoological nomenclature by Linnaeus [
54
]. For a long time, and in particular since the conservative classification proposed by Vachon [
16
], only one widespread and highly polytypic species was recognized,
S. maurus
. It seems obvious, however, that this unclear taxonomic situation could not last, specially having into account that
Scorpio
species possess toxic venoms with a hemolytic action [
55
]. Therefore, a precise clarification of the specific status of different populations was necessary. Lourenço [
56
] and Lourenço and Cloudsley-Thompson [
57
,
58
] reinvestigated the taxonomic position of several species of
Scorpio
based on a number of characters already defined by Vachon [
16
] and confirmed that these were valid species. Using this approach, eight forms or subspecies were raised to the rank of species. Subsequently, new species were also described, e.g.,
Scorpio savanicola
Lourenço, 2009;
Scorpio sudanensis
Lourenço & Cloudsley-Thompson, 2009;
Scorpio niger
Lourenço & Cloudsley-Thompson, 2012; and more recently
Scorpio tassili
Lourenço & Rossi, 2016 from the Hoggar Mountains in Algeria. With these new discoveries, species of
Scorpio
were reported from beyond the Saharan region for the first time [
59
].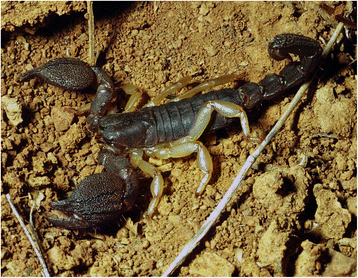 The initial decision taken by Lourenço [56] of raising several forms or subspecies of Scorpio to the rank of species was received with scepticism by a number of authors (several reactions in litt.). Nevertheless, in recent publication Talal et al. [60], using more sophisticated molecular methods, followed the same analysis, previously started by Lourenço [56], and concluded that the raising of some Middle East subspecies of Scorpio to the rank of species was necessary. Previous analysis on some Scorpio species by Lourenço and Cloudsley-Thompson [58] suggested that those characterized by a pale coloration – e. g. Scorpio tunetanus Birula, 1910 (now Scorpio punicus Fet, 2000); Scorpio occidentalis Werner, 1936; Scorpio savanicola Lourenço, 2009; and Scorpio niger Lourenço & Cloudsley-Thompson, 2012 – most certainly corresponded to possible members of a single group that originated from a common ancestor, but today they occupy distinct regions of distribution. This position was corroborated by the recent discovery and description of S. tassili by Lourenço & Rossi [59]. The range of distribution of S. punicus appears to be limited to the high plateaus of Tunisia and north of Algeria [16, 61], whereas the other species of this group are distributed much further to the south, in the Sahel region.
The precise taxonomic situation of all Scorpio populations is not yet fully clarified. The species of this genus have a widespread distribution, ranging from Senegal to Sudan and Egypt in Africa and covering most regions of Middle East.
Family Hemiscorpiidae Pocock, 1893
The genus Hemiscorpius Peters, 1861
Scorpions of the family Hemiscorpiidae Pocock, 1893 and of the genus
Hemiscorpius
Peters, 1861 (Fig.
14
) have been the subject of few studies, aside from the original descriptions. Two recent noticeable exceptions are the publications of Monod and Lourenço [
62
] and Lowe [
63
]. These focused mainly on the Middle East species, in particular those from Iran and Oman. As outlined by Monod and Lourenço [
62
], among the species known to occur in Iran,
Hemiscorpius gaillard
(Vachon, 1974),
Hemiscorpius persicus
Birula, 1903 and
Hemiscorpius lepturus
Peters, 1861, the last one is of particular medical interest. In fact,
H. lepturus
is a potentially lethal species that is responsible for significant scorpionism problems in the southern provinces of Iran.
H. lepturus
venom is highly cytotoxic with hemolytic action and may cause severe wounds, skin inflammations and deep dermonecrotic slow-healing ulcers and blisters, which results in important scars. Other severe complications may also be observed such as serious haemolysis, internal hemorrhages, renal failure and even death [
62
,
64
,
65
].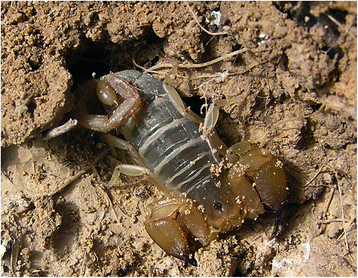 Besides the presence of the family Hemiscorpiidae in the Middle East, some species are also found in Eastern Africa, Somalia and Egypt [66, 67]. Nevertheless, the Iranian Hemiscorpius of the H. lepturus group are very divergent from the African species of this genus. The African species do not show the highly derived features presented by the Iranian one, such as a conspicuous sexual dimorphism and highly cytotoxic venom [62].
New World genera
Family Buthidae C. L. Koch, 1837
Conclusions
The first objective of this article was to bring general information about scorpions of medical importance, addressed to non-specialist people whose research embraces this group. The idea is to demonstrate that the group diversity and patterns of distribution are much more complex than it seems at first sight, in particular to those having access to a limited number of species. If the group diversity is important, the same should be applied to the diversity of toxins. Today, only a very limited number of distinct taxa retain the attention of toxin experts, but maybe this overview about scorpions may encourage the interest of researchers on biochemistry and molecular biology of venom toxins to expand their research to a broader array of scorpion groups, in particular for those that can be informative on the evolution of complex venoms.
It seems obvious that the taxonomy and classification of scorpions is far from being a simple task. In fact, this classification is permanently changing and this situation brings an unconfortable situation for people who use these organisms in their research. For instance, certain toxins are presently associated with species names that no longer exist in the zoological literature; one example is the 'Tityus cambridgei toxin', which has no longer a sense since the correct name for this species is now Tityus obscurus [162].
Nevertheless, people using scorpions in their research should be aware of more precise identifications of the species they are using in their research. In the previous sections, I exposed the quite many situations of mix-up that can be found in an important number of scientific publications. The progress observed in the taxonomy of scorpions, specially the discovery and description of a remarkable number of new species, in the last 15 to 20 created a totally new scorpiological panorama. These new descriptions concern all the known groups of scorpions, but have a conspicuous incidence on the groups presenting medical importance, such as the genera Androctonus, Buthus, Centruroides, Leiurus and Tityus.
In face of all these taxonomic difficulties, the best avenues should be more exchanges between people using scorpions in their research and true experts. Naturally, the number of true experts is yet very limited, but more and more young people are now being trained in scorpion taxonomy. Some previous examples of cooperation do exist in the literature and have proven their efficacity [69].
Declarations
Acknowledgements
I am most grateful to the staff of JVATiT for their invitation to contribute to the journal. Thanks are also due to Lucienne Wilmé (Missouri Botanical Garden, Madagascar) and to Elise-Anne Leguin, Museum (Paris) for the preparation of several maps; and to Tiago J. Porto (Universidade Federal da Bahia, Salvador), Eric Ythier (SyntechResearch, France) and Philippe Geniez (France) for the permission to use some of their scorpion photos.
Competing interests
The author declares that there are no competing interests.
Open AccessThis article is distributed under the terms of the Creative Commons Attribution 4.0 International License (http://creativecommons.org/licenses/by/4.0/), which permits unrestricted use, distribution, and reproduction in any medium, provided you give appropriate credit to the original author(s) and the source, provide a link to the Creative Commons license, and indicate if changes were made. The Creative Commons Public Domain Dedication waiver (http://creativecommons.org/publicdomain/zero/1.0/) applies to the data made available in this article, unless otherwise stated.
Authors' Affiliations
(1)
Muséum National d'Histoire Naturelle, Sorbonne Universités, Institut de Systématique, Evolution, Biodiversité (ISYEB), UMR7205-CNRS, MNHN, UPMC, EPHE, Paris, France