Antiviral activity of animal venom peptides and related compounds
Journal of Venomous Animals and Toxins including Tropical Diseases
2017
23:3
Received: 26 July 2016
Accepted: 30 November 2016
Published: 6 January 2017
Abstract
Viruses exhibit rapid mutational capacity to trick and infect host cells, sometimes assisted through virus-coded peptides that counteract host cellular immune defense. Although a large number of compounds have been identified as inhibiting various viral infections and disease progression, it is urgent to achieve the discovery of more effective agents. Furthermore, proportionally to the great variety of diseases caused by viruses, very few viral vaccines are available, and not all are efficient. Thus, new antiviral substances obtained from natural products have been prospected, including those derived from venomous animals. Venoms are complex mixtures of hundreds of molecules, mostly peptides, that present a large array of biological activities and evolved to putatively target the biochemical machinery of different pathogens or host cellular structures. In addition, non-venomous compounds, such as some body fluids of invertebrate organisms, exhibit antiviral activity. This review provides a panorama of peptides described from animal venoms that present antiviral activity, thereby reinforcing them as important tools for the development of new therapeutic drugs.
Keywords
Antiretroviral agentsAntiviral agentsHIVScorpion venomSnake venomAmphibian venomInsect venomMarine animal peptides
Background
Considering the most common pathologies in humans and other animals, cardiovascular and infectious diseases and cancer are among the leading causes of deaths. The cultural and educational background of affected people largely influences the prevention and treatment of human diseases; nevertheless, the availability of new drugs contributes greatly to mitigating diseases.
More than 200 viruses are known to cause human diseases [1, 2]. Some of them present high public health importance, such as cytomegalovirus (CMV), Epstein-Barr virus (EBV), hepatitis B and C viruses (HBV and HCV, respectively), herpes simplex virus (HSV), human immunodeficiency virus (HIV), rabies virus and Ebola virus. The most recent worldwide estimates presented by the World Health Organization (WHO) reported 1.5 million deaths caused by HIV in 2012, 400 million people living with hepatitis B or C, 80% of liver cancer deaths caused by hepatitis viruses, 500 thousand cases of cervical cancer caused by HPV infection, and over 250 thousand cervical cancer deaths each year [3].
The very few antiviral drugs commercially available can induce severe and considerable adverse effects, especially to those patients receiving lifelong treatment for diseases such as HIV. Furthermore, viruses possess rapid mutational capacity to trick and infect host cells. All these facts together have propelled the prospection for new antiviral drugs, particularly from natural products, as they constitute more than 25% of the new drug prototypes approved in the last decades [4]. Among sources of natural products, animal venoms have revealed a great potential for drug discovery [5–7], and despite the harmful action mechanism of animal venoms, most of them have components holding potential medicinal properties to cure diseases.
It is widely reported in the literature that animal venoms are rich sources of antimicrobial substances, and contain a vast array of active biological compounds with distinct chemical structures [8]. Thus, antimicrobial peptides (AMPs) — a diversified group of peptides that exert essential function in the innate immune host response, when invaded by pathogenic organisms, such as bacteria, fungi and virus — are considered the first line of defense of many organisms, including plants, insects, bacteria and vertebrates [9, 10].
Possible action mechanism of antiviral compounds
Some peptides exhibit direct virucidal activity; others disturb attachment of virus particles to the cell membrane surface or interfere with the virus replication. Because of the limited efficiency of commonly used drugs and emerging resistance of viruses, antiviral peptides may have the potential for development as putative therapeutic agents [11]. In addition to their reduced market availability, the collateral effects and toxicity of the synthetic antiviral drugs have triggered an expanded search for natural compounds displaying antiviral activities [12, 13]. Any compound to be utilized as an antiviral should comply with the virus pathways during the cellular infectious cycle. Initially, any RNA or DNA virus, enveloped or not, expresses glycoproteins that are responsible for the interaction with surface molecules, receptors, usually glycosylated proteins, integrated in the host cell membrane. At this step, any potential antiviral candidate must compete for the cell receptor by inhibiting the virus attachment to the cell membrane, thereby aborting the viral infection.
Other candidates may act intracellularly by interacting with the virion capsid to prevent its decapsidation; therefore, the viral nucleic acid would not be freed and transcribed. Concerning retroviruses, the antiviral candidates can act by inhibiting (i) the viral reverse transcriptase activity; (ii) the pre-integration complex, thus avoiding the transport of circular viral DNA to the nucleus; (iii) and also by inhibiting the action of the viral integrase, which would not allow the viral DNA to integrate into the cellular chromosome. The proviral DNA, after transcription, is transduced into a polyprotein that requires the viral protease in order to generate small proteins to assemble the viral capsid. In this manner, an antiviral compound could inhibit the viral protease by blocking the retroviral morphogenesis (Fig.
1
) [
14
]. Some retroviral proteins play a major role in the pathogenesis, by down regulation of CD4 and MHC molecules of the host cell, driving them to the proteasome for degradation. If supposed antiviral candidates target these viral proteins, HIV-1 Nef, Tat and Vpr, their actions can be restrained. All the mentioned mechanisms are directly performed by retroviral molecules [
15
], but other mechanisms could also be triggered, such as those involved in the innate immune system, e.g. (i) the induction of toll-like receptor expression, that interacts with viral nucleic acid, or (ii) production of cytokines that stimulate the action of T cytotoxic cells, and NK cells, and even host cell expression of the major histocompatibility complex molecules, in order to present viral peptides to the other cells of the immune system [
16
]. Furthermore, antiviral compounds may activate innate restriction factors coded by the host cell [
17
].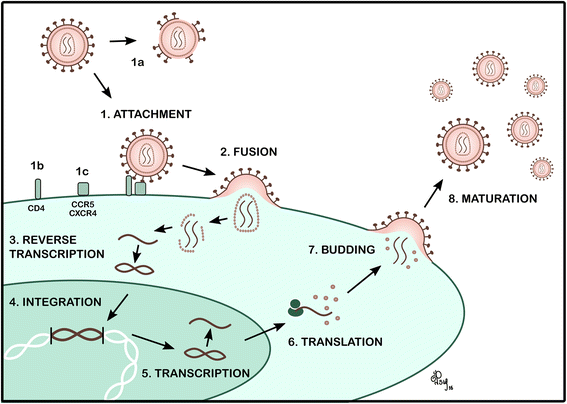 Mechanisms of viral resistance to drugs
The viral DNA integration in the host cell chromosome represents the major problem to be overcome in a retroviral infection. Until now, there is no available drug capable of completely clearing the virus from the host [18]. Furthermore, silent retroviral infection is hidden at anatomical sites that are difficult to reach by drugs, such as the gut-associated lymphoid tissues, lymph nodes and central nervous system. Infected cells, including macrophages, are quiescent in these tissues and it is not known when they will activate and release new viral progenies. Another challenge for an antiviral candidate is posed by the mutation rate of viral genes, mainly among RNA virus, due to the polymerase synthesis error. This is much more intriguing among retroviruses, as the initial virion genome, maintained in quiescent cells in "sanctuary niche", are distinct, mutated from each round of cell infection. Thus, in each cycle of viral infection, the hijacked cell produces a growing number of recombinant new virions [19].
Antiviral peptides obtained from animal venoms
Conclusions
As a consequence of the scarcity of new families of antiviral drugs, pharmaceutical companies have strengthened their efforts to increase developments of known current drugs, resulting in little or even no improvement to the existing therapies. These new patent protections guarantee the rights to the same stakeholders who are charging high consumer prices due to the lack of competition [114]. At the same time, the growing demand for new drugs and natural therapeutic products is a matter of extreme necessity to face the emergency of multiresistant viral pathogens. More than 45 compounds obtained from vertebrate and invertebrate organisms presented in vitro or in vivo antiviral activity. Although none of those has yet been launched on the market as an antiviral drug, they present chemical structures completely different from the current drugs used in therapy, despite acting on similar targets. Those compounds may lead to new classes of therapeutic drugs after additional chemical and pharmacological studies.
Emerging and reemerging viruses of medical relevance challenge health authorities all around the planet. Some viral vaccines have taken too long to be designed and approved for human and animal utilization, and even in some cases could not be developed. Preventive and curative measures should always be in the hands of health authorities to ensure control of epidemics, such as the recent Ebola virus in Africa or arboviruses, particularly in Brazil – represented by the dengue, chikungunya and Zika viruses – or worldwide pandemics, such as influenza and HIV. Therefore, prospection, screening and all other phases of biological activity, validation, clinical development of animal peptides represent an essential scientific investment for protecting and perpetuating humankind.
Abbreviations
AMP:

Antimicrobial peptide
ChTx:

Charybdotoxin
CMV:

Cytomegalovirus
DBP:

Disulfide-bridged peptide
DENV:

Dengue virus
EBV:

Epstein-Barr virus
H5N1:

Influenza virus
HBV:

Hepatitis B virus
HCV:

Hepatitis C virus
HIV:

Human immunodeficiency virus
HSV:

Herpes simplex virus
MAPK:

Mitogen-activated protein kinase
MeV:

Measles virus
NDBP:

Non-disulfide-bridged peptide
SARS-CoV:

Severe acute respiratory syndrome/coronavirus
VSV:

Vesicular stomatitis virus
WHO:

World Health Organization
YFV:

Yellow fever virus
Declarations
Acknowledgments
The authors thank Patrícia Souza Wanderley for Fig. 1 elaboration. Thanks are also due to the Center for the Study of Venoms and Venomous Animals (CEVAP) of UNESP for enabling the publication of this paper (Edital Toxinologia CAPES n. 063/2010, Process n. 230.38.006285/2011-21, AUXPE Toxinologia 1219/2011).
Funding
ECGM and CBFM received scholarship from the Coordination for the Improvement of Higher Education Personnel (CAPES). EFS is supported by the National Council for Scientific and Technological Development (CNPq). This work was also supported by the Edital Toxinologia CAPES n. 063/2010, Process n. 230.38.000805/2011-92, AUXPE Toxinologia 2109/2011.
Authors' contributions
ECGM was a major contributor in writing the manuscript. All authors contributed in writing the manuscript, read and approved the final document.
Competing interests
The authors declare that they have no competing interests.
Consent for publication
Not applicable.
Ethics approval and consent to participate
Not applicable.
Open AccessThis article is distributed under the terms of the Creative Commons Attribution 4.0 International License (http://creativecommons.org/licenses/by/4.0/), which permits unrestricted use, distribution, and reproduction in any medium, provided you give appropriate credit to the original author(s) and the source, provide a link to the Creative Commons license, and indicate if changes were made. The Creative Commons Public Domain Dedication waiver (http://creativecommons.org/publicdomain/zero/1.0/) applies to the data made available in this article, unless otherwise stated.
Authors' Affiliations
(1)
Laboratory of Toxinology, Department of Physiological Sciences, University of Brasília, Brasília, Brazil
(2)
Laboratory of Immunopathology, Butantan Institute, São Paulo, Brazil